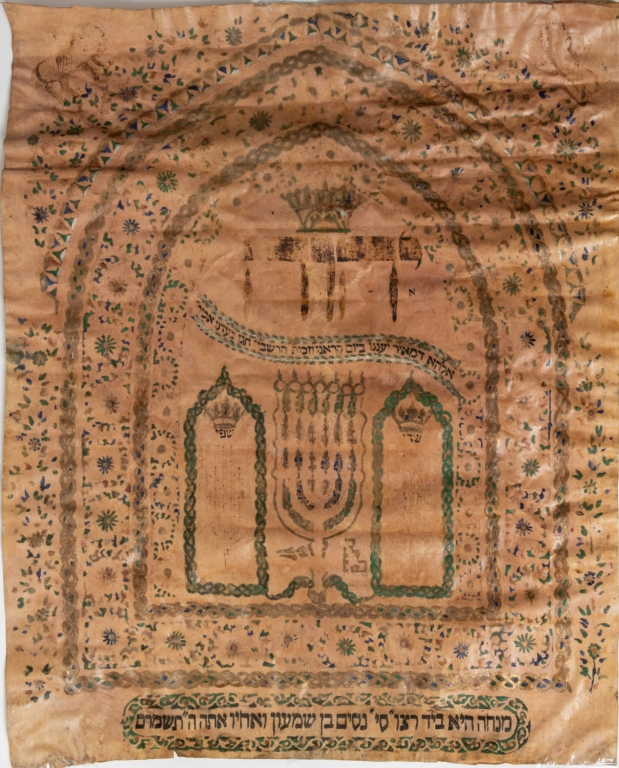 MENORAH (CHANDELIER)
Shiviti
| | |
| --- | --- |
| Numéro d'objet: | 35086 |
| Catégorie: | Objet de culte |
| Technique: | Technique mixte |
| Origine: | Sefrou |
| Date: | XIXe |
| Support: | Parchemin |
Recherche dans "Notes":
Large Shiviti on Parchment. Morocco, 19th-20th Century.
An oversized sheet of parchment used for a large Shiviti, written and illustrated in Morocco during the 19th or early 20th century. The page shows an architectural gateway, made entirely of hand-painted decorations, within which are set classical Shiviti and Mizrach texts. At the bottom of this large parchment sheet is a dedicatory inscription: "A gift of Rabbi Nissim ben Shimon and his brothers, may the Lord preserve them."
The Shiviti's decorations and verses were executed by hand, by a scribe and illustrator, using green, blue and gold colors, and showing geometric and plant motifs. In the center of the design is a large Menorah, and on both sides the texts of 'LeMenazeach'.
73 x 62 cm.
---