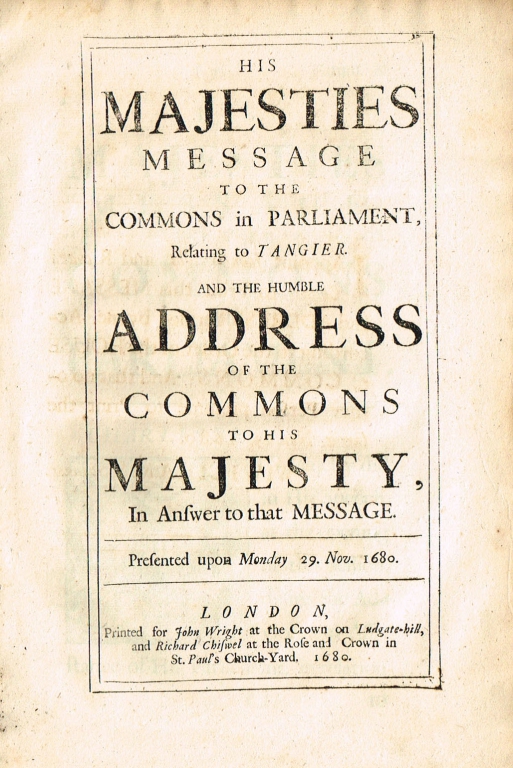 HIS MAJESTIES MESSAGE TO THE COMMONS IN PARLIAMENT RELATING TO TANGIER
Charles II (House of Commons)
| | |
| --- | --- |
| Numéro d'objet: | 34652 |
| Date: | 1680 |
| Genre: | Plaquette |
| Lieu: | Londres |
| Sujet: | Histoire |
Recherche dans "Notes":
His Majesties Message to the Commons in Parliament, Relating to Tangier. And the Humble Address of the Commons to His Majesty, in Answer to that Message. Presented upon Monday 29. Nov. 1680.
Printed for John Wright and Richard Chiswel, London. 1680. First edition.
Folio. [4], 71-85, [1] p.
Chip to first and last leaf, and 1.5cm tear to the first leaf. Stab holes to the gutter. Small ink inscription and tidemarks to the first leaf. Page edges age toned.
Charles II received Tangier as a wedding present in 1661. Strategically positioned, and intended as a free port, it more or less housed the standing army of the time. An army with a large number of Catholic soldiers. In need of work and often attacked by the Moors, in reality Tangier was a money pit. In need of more funds, but with anti-Catholic hysteria at its peak due to the Popish Plot, the government was suspicious of sending additional money. The reply of the commons here reflects this.
---